We are a community of adult learners.
The Covid-19 pandemic and other crises impacting Americans accelerates the urgent need for development of both cognitive skills to make sense of information, and digital literacy skills to access services in a digital era. Equally important for stronger communities: networks of positive connection that build foundations.
"Literacy is the ability to identify, understand, interpret, create, communicate, and compute, using printed and written materials associated with varying contexts."UNESCO
Our Mission: To empower adults through learner based tutoring in reading, writing, math and technology
and to promote literacy in our communities.
Since 1978, we strategically address the ultimate goal of ending generational low literacy in rural Franklin and Somerset Counties (15 people per square mile and 12.6% poverty rate), where 1 in 5 adults reads at a level below third grade (PIAAC Study, 2012-2017), and poverty, transportation, and digital access are barriers to education and health services.
Our infrastructure enables us to maintain continuity of learning and keep people connected during a period of pandemic quarantines. IN 2021:
Our literacy programs

served 296 people with a **Circle of Impact of 888.

Supporting services promoted community literacy development and intersected with the tutoring program to include: Annual Poetry Contest (41 submissions), Traveling Libraries (1671 free books given), and family friendly virtual writing workshops .

We Increased by 35% to over 61 networks, the number and depth of partnerships with community organizations for mutual benefit.
"When individuals build foundational literacy skills on a continuum of learning, develop their knowledge and potential, and achieve progress on self selected goals, they forge independence, improve health and stability for themselves and their families, and participate in communities to make communities stronger and safer." UNESCO
We are a public nonprofit.
We work for you.

We live in Western Maine, one of the most rural parts of the U.S.

We are life long learners with free, weekly classes offered.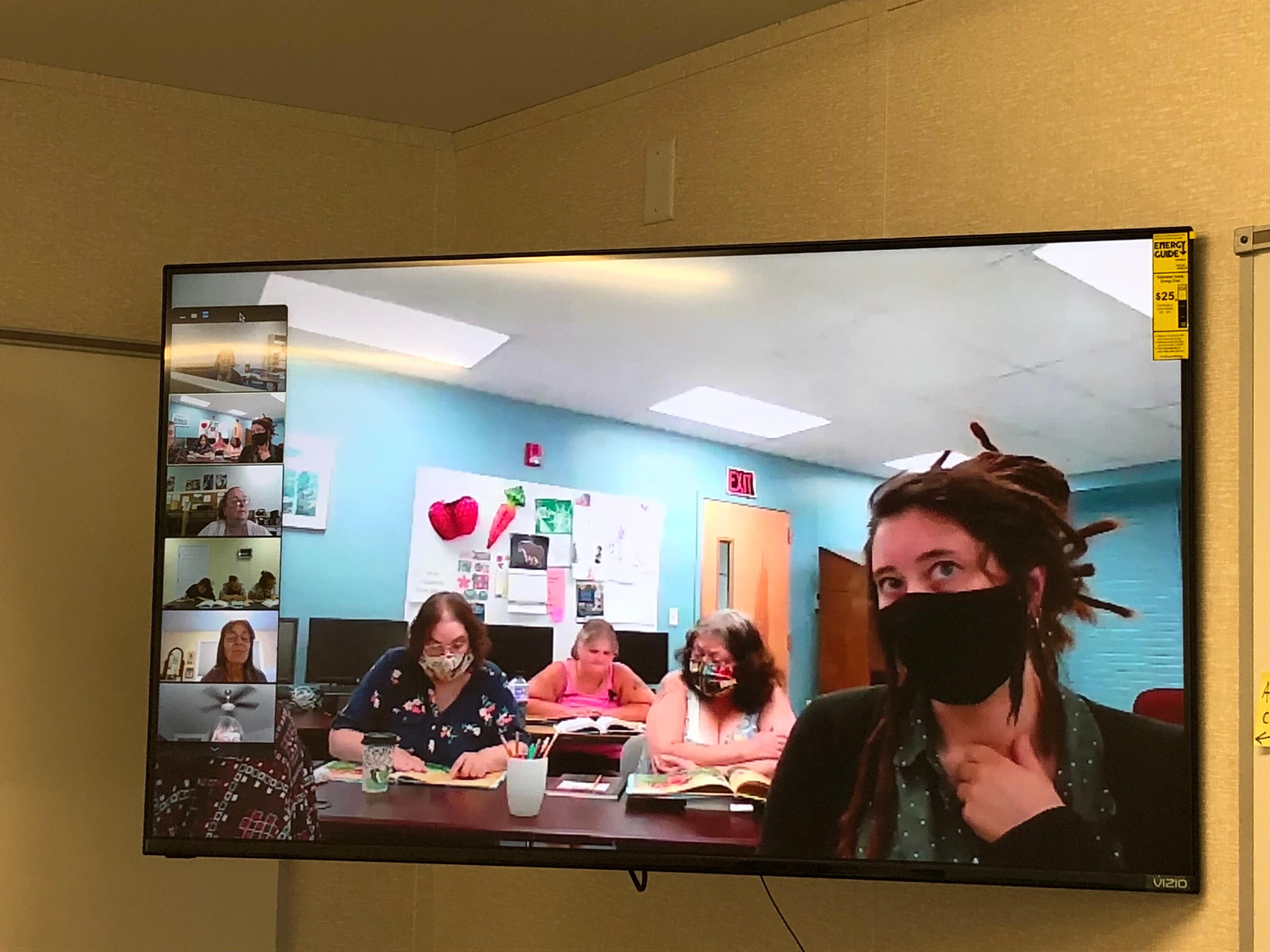 We are trained volunteer tutors, who work with their adult students every week.
We are volunteers, giving time and skills.
We are collaborators to promote literacy.
(we network with 61 organizations in the community)
Click on this link to learn about our Rural Expansion
We are readers.
We are writers.
We are a Part Time Staff.
Sara Beech ,Tutoring Program Coordinator and Administrative Assistant, ( since 11/1/2016)
Sara is a full time Community Education student working on their Masters degree at Goddard College. Sara is a trained Maine Humanities Council Facilitator, a transformative language artist, and a board member of the Wilton Free Public Library. Sara has always pursued alternative education pathways. Can you believe they tried to become a Literacy Volunteers tutor at the age of 9? Sara and their children raise goats, play a variety of games, and read books. They all love to dabble in playing musical instruments.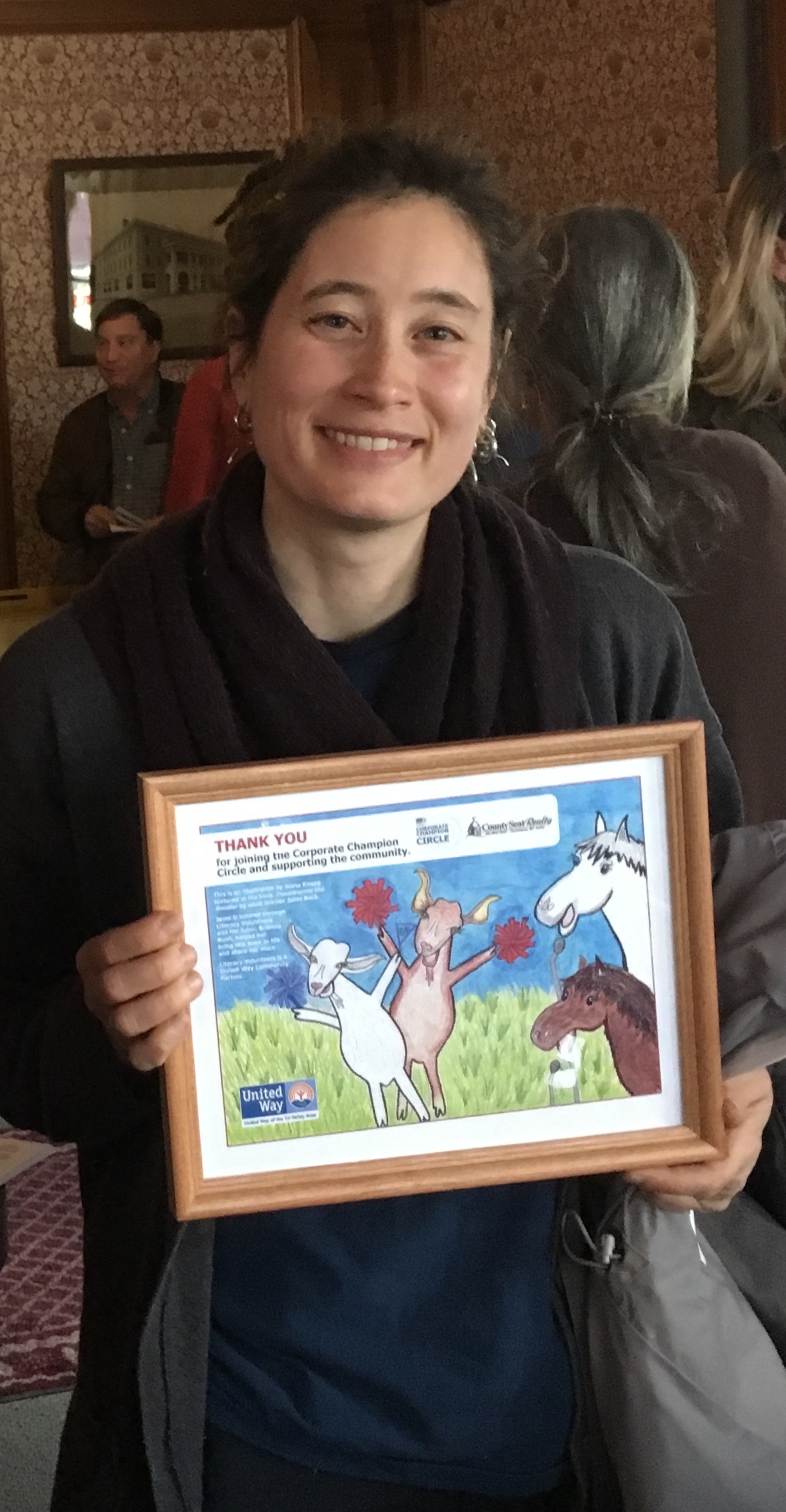 Barbara Averill, Executive Director (since 7/1/2015):
Barb earned a masters degree from USM in Special Education in 2009, and went on to establish the first elementary charter school special education program (K-8) in Maine. The first half of her career was as a small restaurant/bakery owner. Barb loves to be outdoors playing with her yellow lab, all year round, though she will find time to read and write.
Co-Chair
Co-Chair
Treasurer
Secretary
Member at Large
Member at Large
Member at Large
Maggie Davis, Vienna
Mathilda Holt, Farmington
Currently Vacant
Currently vacant
Judy Pottle, Livermore Falls
Alana Knapp, Farmington
Pepper Ouellette, Strong