Adult Tutoring Program-"Learner Centered Learning Together"
We train volunteers to tutor individuals and small groups of learners who read at the twelfth grade level or lower and have literacy goals. If interested or have questions, contact us to register. Contact us to register
Individual Learning Partnerships-"one to one" tutoring since 1978.
Volunteers are trained and matched with adult learners who have literacy goals. Learning partnerships work together once a week for 1 hour.
Collaborative Learning partnerships (group tutoring)
"When individuals build foundational literacy skills on a continuum of learning, develop their knowledge and potential, and achieve progress on self selected goals, they forge independence, improve health and stability for themselves and their families, and participate in communities to make communities stronger and safer." (UNESCO)
LVFSC adult tutoring programs focus on developing habits and skills of co-learning to build a sustainable culture of literacy and learning. Lvfsc data show that over time, adult learners are better able to solve family problems, access health services, communicate needs more effectively and self advocate, increasing an individual's ability to be more independent in supporting the family and increasing the likelihood of participation in the neighborhood.
The circle of impact upon the culture of literacy widens
when people feel more comfortable to use what they learn
in different settings and share with others.
Some examples of recent adult learner goals accomplished: read to children every day, use digital literacy to access services, conduct research to learn how to make diet adjustments and improve health, help with children's school work, learn how to vote with ranked choice voting, learn Covid information to help loved ones make informed decisions about vaccines, get a driver's license, secure gainful employment, use transportation services, and receive a high school diploma.
New Plan: (pilot starts 9/15/2021) 2021 Community Connect Themed Semester Model: Text-based learning together
Contextual, collaborative, discussion-based learning experiences related to: math problem solving, book discussions, expressive writing, community safety, civics, health, math problem solving and family literacy.
Our Class size averages 12-15 participants from
12 towns and 4 countries, linking 5 physical classrooms
with individuals in homes/cars/restaurants/libraries.
Our volunteer trained tutors take part
by modeling and encouraging discussion,
and if necessary, assisting learners with reading and/or writing.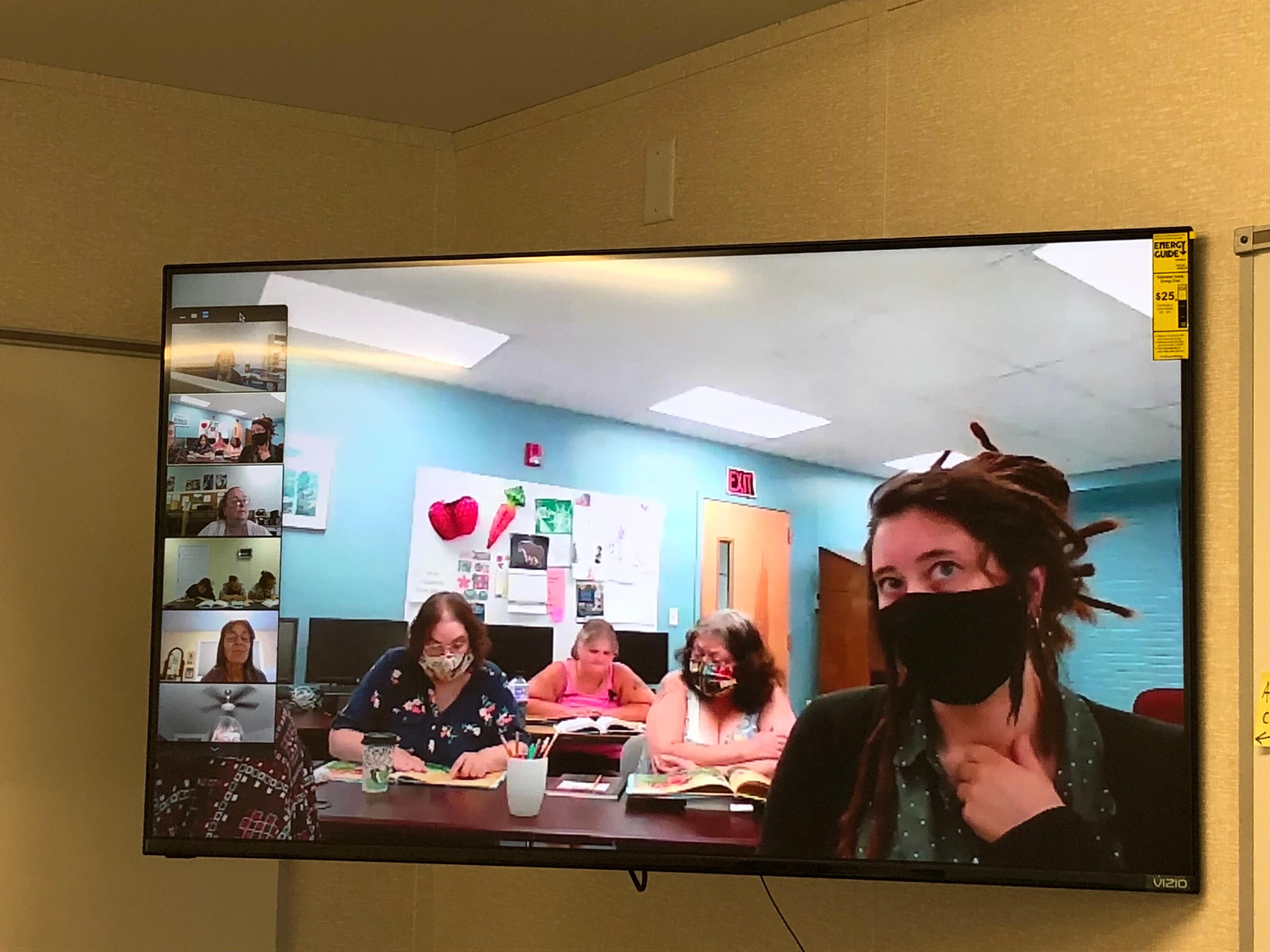 Goal of Community Connect:
Continuity of quality literacy instruction, both in person and remotely, will be ensured. Adult Learners will use digital literacy and grow in confidence to see themselves as members of literacy communities, able to both share ideas and ask questions.
3 modules per semester:
Book Discussions: A curated selection of topics around the theme-using texts as the basis for discussions and maybe some writing.
Creative Writing Workshops: Writing and collaging together, following a text-based prompt.
Community Connect: Participants will learn information about a contemporary topic from a community presenter. Larger group and smaller group discussions follow (using "breakout rooms")
Theme for this semester: "Communities, Differences, and how to have Difficult Conversations"
Participation is welcome per session or for all! Weekly on Wednesdays, 10-12, using Zoom with physical classroom spaces available.
Materials: Participants are requested to bring pencils, paper, glue and scissors.
Presenters/participants might stay for the entire session or a block of time at the beginning, middle or end. Sessions will be facilitated by staff, who are also available to help tailor presentations for the hybrid classroom and discussion based format.